Camilo J. Chaves, 30 days in Japan from camilo chaves on Vimeo.
When I lived in London, some of my best friends where some Japanese guys and girls, classmates and coworkers, I was in love with their smiling faces and I really liked some of the girls, Japan was an unknown place far away, and that made me desire to be there… Still with no schengen Visa, no other stuff to spend my own earn salary as rickshaw driver than a trip to Japan. I bought a cheap ticket (500 pounds) Then I went for my japanese visa, with my 400 pounds in my bank account and a lot of well willing.  denied! not enough money in the back, fuck. I put 800 pounds more borrowed from Alberto,  I went with Ryo, my friend, who I was travelling with and another rickshaw from the streets of london… Still denied, and they asking where did the money come from, So… Should I give proves where stupid little money came from? I couldn´t say I was an illegal taxibike driver, carrying drunken people to or from the bar or the streptease place or wherever, carrying tourist or whoever paid me? No, I couldn´t. Then, Ryo´s mum sent them a handwritten letter in a flower stamped paper, inviting me, to Japan, to her house.

I got my visa! Japan, here we go! With my visa I was able to by my Japan rail pass, a 21 unlimited train pass, valid in all over Japan, the country with the best train system in the world. Still some money in my account and I still had more days to save more, pedalling my taxibike at night.
Well, long story.. but I took my flight to Japan, 3 days earlier than Ryo, after some time in the immigration office (of course, what the hell is a Colombian guy traveling alone doing in Japan), they understand that I was just a tourist, and my bicycle bag and my helmet hanging from my backpack helped a lot!
First impresions in the train to Tokio… Great, all the faces, all the advertisement, all the sounds and language, I was definitely in another planet and that was the feeling I was expecting. First thing to do out of the train? fix my bicycle and search for my hotel.. yeah it took me some hours to find it, some lovely hours searching an address in Tokio, riding my own bike, listening to my rear wheel's hub sound.. pretty.
Well, Hotel reception closed from 12 to 16:00, then let´s find another hotel… asking for hotels, I was driven by locals to a Japanese hotel, unknown by tourists, this was an authentic capsule-like hotel. I stayed there for 5 nights in total.
I had all in my little litter, even TV. there was a communal sento (japanese bath) in the ground floor and shower was 2 streets away, but not a problem! it was cheap and Japanese, sliding wooden walls and all!
First thing to do in the street? grab my bike and go looking for lunch, and there is nothing better than ride strange streets and pick up a neighbour restaurant, so i went out. First impressions… sunny streets, not quiet, busy in fact, but silent, the sound of my bicycle and me watching and people wandering who I was, I could cover any street I wanted, stop anywhere, even talk to anyone, I felt like that. I was surprised to see homeless, I chose a normal little restaurant, random and when I could bet no tourists would reach, just me because I had my bicycle which took me to it!
Third thing to do in a strange city? search the skatepark… so I went for it…. a little lost in the streets i was doing pure discovering, a feeling not so common in people, a feeling I was seeking for. In the way to the skatepark I asked a child, as he didn´t speak english, he sade signs telling me to follow him, well, he took me to his school, a real japanese school, all the kids went out the clasroom and along with the teacher they asked about me and Colombia and in the end they gave me directions, I rode out the school full with a smile in my face. I reached the skatepark, Amazing Square Skatepark was in Minami Senju Area, there where some guys playing baseball and some other riding, I just started riding, I talked little with them, but I got some nice videos of me while riding. It was anyway, MY FIRST DAY IN JAPAN, and it was being amazing.
AFTER READING MURAKAMI BOOKS, I now wander what kind of men stay in this Japanese hotel… no latin characters, sliding paper doors, I saw lonely men, walking in and out, quietly getting to their little rooms, like mine, taking naked baths in the house's sento (Japanese traditional bath, very hot water and naked people to relax), Now I think they are the kind of lonely guys that Murakami describe so much in his books. In the end, I was happy I didn´t stay in the tourists hostel.
Please allow me to describe everything I saw in Japan… In my room, my safe place, my home, I had my maps, my stuff and my plans, I even had a TV and headsets to listen, it was a (nice) surprise they had a porn channel, yes… real Japanese porn directly from the source, no more comments.
So, all that
Second day? breakfast, lunch, cycling, I went to Asakasa neighbourly, a traditional area in japan, some tourists there, still, Japanese groups of girls wanted pictures with me, (this happened several more times during my trip). I happened also several times that I met a girl, we talk in my poor japanese and after a while, I lost all the link because I couldnt express myself and they didn´t speak english, it is in those moments that I promise myself to learn a new language.
I passed all the day wandering in the streets, light rain coming  with my lonely planet book, I had maps and advices. I saw the original Rickshaws (I went to Japan with my salaries from being a rickshaw in london), I felt admiration about them, I understand the job, I do the same thing in a much more crazy city, London!
At night, my book advised Roppongi, the party area of tokyo, I went there by metro, and I would hide a lot if I don´t tell I observe, analyse the faces, the movements, the people inside, everyone doing something, with their big phones or reading something, at night, tired people going somewhere to be fixed. So I walked the streets, once a while buying green tea chocolate, which I loved and milk. Going home later full of experiences, and starting felling the beautiful loneliness that will mark my 1 month stay in Japan.
Next day I went again to Akasaki, it was on my way to central Tokyo, fuck, i had to pedal like 30 minutes through Tokio to get to the centre… AMAZING! somewhere in the road I met an argentinian girl, Pilar, she was ridint tokio with another guy in renting bicycles, we agreed to ride together, me in my BMX, making the typical BMX bike noise.. great. We had lunch somewhere, I dont remember my food, I had also problem getting into the toilet, I couln´d open the door, I called one guy from the staff, and silly me, the problem was that I was pulling the door, the sliding door! The other guy left us soon after lunch, Pili and me kept riding, visiting temples and talking, I attached my little tripod to my handlebar so I could film while riding (my ultra compact digital camera), She told me "Just special people would do what you do, nice". We went to some government buildings called oshio or something, because we could go to the top for free, it was sunset and we had a beautiful sight of tokio, I remember tokyo tower in the scene. It was all magical.
We kept going south, towards Harajuku station and the famous Takeshita street, place for cozplayers (people wearing great customs like manga or whatever (like a full predator custom)), it is famous, search for it. Many tings happened in the road, we saw a food messenger in bicycle, with a tray with food in his hand and going up by a bridge, he passed us and we could reach him 🙂
Going back was tiring, it was about 1 hour riding back, I dont remember when i say bye to Pili, she is in my facebook, but unluckily she never answers my grettings.
After that, I went to find dinner by myself, and beleive me I looked for the most hidden japanese inn to eat, so I found this:
YEs, I look like a tourist, right? but since I spoke very basic japanese and they didn´t speak english, I kind of fit the place, eating my rice and ramen and being quiet while the others were singing. I also think that I dont really look like a common tourist, I beleive they looked at me as a lost child coming from somewhere they couldn´t identify, not a menace, not a stupid tourist. See my haircut, it was Alberto, in london who made it for me! great!
I went to the skatepark again to ride, It was great, some guys took me some videos and I was riding smoothly, until I felt on my left shoulder, I lost my air, nothing so bad… but fuck, next day it was hurting, and the later days it hurted as hell, I almost had to lye on the floor every time I coofed or moved suddenly, I think i had something broken, a rib maybe, so bye bye to my jumping in bicycle, no more skateparks.
So where were my japanese friends Ryo and Megumi? It was my 3rd or fourth day in Tokio, but I didn´t want to disturb their welcome home from Tokio, and I was enjoying Japan by myself, I called Ryo in my 3rd day, I think, he was worried, not me. One more day in Tokie, it was St. PAtricks day, I didnt care, but it was sunday, so I went to harajuku street, famous for the cozeplayers, crazy guys who dress like anime characters or anything, predator, etc.. and lots of unusual clothes shops, it was very educative.
I walked the famous shibuya cross, which will appear lots of times in Japanese writer´s books and I took nice pictures with the super crowdly crossing. No special plans for the night, so I went to the club district calle Roppongi, I didnt find anything for me there, black guys trying to take me to bars and a light rain and me covered by one of the many free and public umbrelas you can find outside the shops, they are free but you should bring them back after you use them.
Back in my capsule hotel, I enjoyied the Japanese TV and also enjoyed some of the porn they broadcast. Next day I rode my bike to Tokio palace, in the way, I completely ignored Tokio tower, taller than PAris Eiffel tower it is a turistic stuff, I was already happy with my bike and my music and the streets of Tokio. where a guard shouted at me and kicked me off the place because I had my bike with me, it was more fun than scary. There is a nice book shop street just behind the palace, I didnt visit any shop, I wasnt interested on books at that time.
So, lots of free time for me in Tokio, which I really enjoyied.
I meet Ryo next day in Hachioji, his town outside Tokio, He and His mom picked me by car, they have the wheel in the left.
I entered ryo's house in the suburbs and the family welcomed me, I was taken to my room, a marvelous tatame floor, wooden sliding doors and a futon to sleel in the floor, I couldnt be more happy. That night they asked me if I wanted a shower, as a must, we Colombian always shower in the morning (people from warm cities shower more times a day), so I refused, they gentle asked several more times, so I accepted the offer,I discovered a 40 degrees warm bath, where I should relax after taken a shower seated in a little seat in the shower, so I did, it was also great. I sleeped very well despite my chest was hurting a lot.
Food in the house was amazing, something fast for breakfast, but typical Japanese food for lunch and dinner, rice, pork, eggs, soups, great. The plan was to live, just live in Japan, so I enjoyed going out with Ryo for everything, walking the dog, wandering in the car, visiting friends or walking in the town. Ryo once took me to a ex-school re-meeting dinner in a bar, 15 people seated in the floor, eating and drinking and all of them talking to me and making me taste their food, I impressing with my basic japanese and I will never forget that night. One night we went to Yokohama to see a pretty japanese girl whom a colombian friend had introduced to me by email, she was amazingly beautiful and a nice host, she invited dinner and showed the city, We meet some days later, she hosted me few days.
Sento:
Sento are public baths in Japan, people go at night to relax. It is a whole ritual. You have to enter the place bath area naked, first take a full cleaning bath seated in one of many little chair, then you can go to the pools, still naked, they are so hot that you enter and you feel dizzy, people talk or relax, others watch tv in the sauna, a very very experience.
I stayed there for about 5 nights, then it was time for me to leave, and let Ryo enjoy his family, which he hadnt seen for 1 year and I had a 21 days railway pass that allowed me to travel for free in any possible train in Japan! I started my 21 days primrage around Japan.
Ryo planned to to go Ski, so we went to Ochiba (?) near Matsumoto, north tokyo, we pass by the first time by the big Fuji-san, the famous volcano, we got to the town, got our room and went for Ski, it was incredible, very white snow and good slopes, even a snowpark! Ryo and me enjoyed a lot, in the end of the day I was trying some jumps in the snowpark (I included this in my 2009 BMX video) and in one jump, I tried to slide a bank (remember I had a broken rib) and I fell badly into the bank, I got dizzy and I couldn't move so much, so we stopped there and we went to the hostel, they said it was about 400 EUR for a X-Ray, so I prefer to leave it and rest, they put me in a nice low table with a heater, I felt so welcomed, we also got some beers and food in a near bar.
Next day Ryo went back to his home, I bound to Matsumoto, my next destination, it was a good bye for ryo.
Day 10. starts my walking alone.
MAtsumoto, Kawaguchiko, Himeji, Kyoto, Tottori, Kyoto, Yokohama, Osaka, Yokohama, Kamakura, Hiroshima, Miyajima, Kumamoto.
I bound to mount Fuji, the famous vulcano, so I booked a hostel in a town called Kawaguchi-ko. Just when arrived, I was using the hostel´s computer and my backpack disappeared, fuck, my passport was in there…  told the staff and we found it in some other´s guests room, somebody took it by mistake, I beleive.
What else to do? of course go for a walk to see mount FUJI! I ended going in a several hours walk around the lake, this happens when you are alone with a lot of free time. Few people could understand me.
Now Kyoto for my first time, the old city of Japan, with the old castles and houses, remember I had a broken rib? well, I took a bycicle and rode the streets, not the usual streets you see un cities,but narrow streets that were obviously meant for bycicles… very nice experience, the sound of the bike, the wind and the faces of the people.
Next stop: Tottori, in the sea side north center of the main island, a quie town, sure not touristic, but with the nice tottori desert, just along the sea. I rented a bike and went for the 5 kilometers ride to the desert, just before arriving I saw a couple of Japanese trying to take a picture of themselves while jumping, so they put the 10 secs counter and were shouting "10, 9, 8 , 7…. jump" well, I took the picture for them and continued my path. I met them later in the desert, we went for lunch and tryed kaiseidon, a raw sea food dish… We went for a car ride and they told me about them and about tottori… nice.
NExt day was my birthday, and I spent the morning in Tottori, wlking, eating Osoba, japanese noodles, and I went back to Kyoto, there was a Manga event in the Manga museum, pretty nice.
In Yokohama I meet this japanese girl again, we went to the big budda of KAmakura, at night for food and sake, I was very welcome everywhere, they gave me free drinks in restaurants, it was a happy night, late we went to the train station, where I missed my train for some minutes, she told me in spanish… "You know what it means?" I told her… "that I will stay in your place". What happened next days was a gift from Japan to me, something I will never forget and stays as a marvellous memory.
While in Yokohama, I went to Osaka one day and came back (I had the unlimited train pass), there, walking a lot and spending time.
in Himeji, I saw the most beautiful castle I have ever seen.
In Hiroshima, sinonimum of atomic bomb you feel a real japan, a mix of old, history and modern Japan. You start wandering why somebody could kill 70.000 japanese with a single bomb. The second bomb exploded in Nagasaki, where the Atomic museum shows the madness of the killing, there is a bended clock showing the tie the bomb exploded, I also find very touching a small picture showing a kid carrying his dead little sister, waiting his turn for the burning of the corpse.
At night I went for a walk, lonely walk, took some pictures of the castle and had a japanese hamburger. Hiroshima is also famous for baseball, I went to the stadium following the noise from the supporters, I wanted to know how much the ticket was, the gates were opened and a guy in the entrance just invited me to come in, so I did. So there I was, entering a full baseball stadium, I found a seat in the back, didn want to be noticed… Anyway people started to talked to me, they explained the game and gave me staff to support Hiroshima. The supporting was amazingly organized, a really show. We lost and they invited me to the restaurant to tray Hiroshimás okonomiyaki, a 1 to 10 spicy dish, I chosed level 3. I dont really remember what else I did that night, I think I went to my hostel after that.
Next stop Miyajima and the famous floating shrine gate. lonely walks again, deers wandering around, japanese tourists. It is a really shame I dont remember what or where I ate there.
By this time, I started feeling the loneliness, enjoying it, talking to myself, singing.
Next city: Kumamoto, city of a Japanese girl I meet in London called Retsuko, who I liked and never liked me back ha ha ha, She was a nice friend. Since I was moving south, and it was march, spring was comming and Sakura trees started to bloom, Japan is full with these trees and it looks so white and cherry. I stayed 1 night there, again I dont remember exactly whatI did. What a shame!
Where did I go next? Aso san. "San" means mister, also mountain. Aso is an active vulcano in the middle of nowhere and by bus we can go to the top, pretty impresive,  just while I was in the crater, it became more active and they kicked us out of the place, there are other small vulcanos in the area, but in the bottom of Aso-San, I found a 2 eur Sento, this time a very traditional sento, I was almost the only customer, and pools were naturas in the ourdoors, water came straight from the vulcano.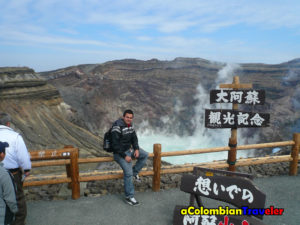 Day 22. Kagoshima and Sakurajima
In the most southern part of Japan, Kagoshima, I found myself walking the streets, where I think I was the only tourist, I have lots of time, there where always things to visit, food to eat, music to listen in my phone, at night I walked and there was a bazar, people little more brown than in the north, I talked in english and very basic Japanese. Next day I went to the train station, there was a pretty old black train, so I took it not caring where it was going, I sat and when the ticket girl came I found that my pass wasn´t valid for that train, which was a sightseeing train in the region, they didn´t charge me and I dared to invite out the ticket girl, these are things you do when you are alone, in a far country, days after days no talking to anyone, she said no but the woman sharing my seat bought me a lunch! we went to nice country side places and it was nice, later I took a ferry to a promising island, sakurajima, which means island of cherry blossom and has a big vulcano in the middle, it was a half deserted island with some houses and a road around the island, I rented a bicycle and went around, the road was made of lava and the landscape was moon like, I felt I was in a far far place going around a vulcano, I gave back the bike and headed again to the main island.
I was in the very south of Japan, still with some days left and no plans at all, so I decided to make it to Hokkaido, the northern most island of Japan, an inospic land for me and a dream I had since time ago. I took a train ans stopped in Kyoto, where I visited more places, I was lucky and spotted 2 geyshas and I took a nice picture of them.
It was april almost 1 year living in London, and I had to decide if staying one more year in London or going back to Colombia, I didn´t have money to pay the Visa extension, I had borrowed 800 pounds for this trip, which I showed in my back statements for my almost refused visa, I didnt have money for 1 more year of english school and the most important, there was a girl I wanted to see in Bogota, my brother was with me in london, so I had to leave him too, I called the airline and made my flight adjustment for Colombia. To take my next train I ran and ran and ran with my backpack for 15 minutes, so hard, when I came to the platform, I saw my train leaving and I felt terribly hopeless and a little sad, 10 minutes later, a second train arrrived and it was my train. there, I saw a couple saying goodbye, the guy was inside the train and the girl outside, crying through the window, I noticed I missed my train but nobody would care, and nobody would cry for my departure, I also learnt that hopelessness is temporary.
So it was a long train road, I stopped in Yokohama where I took a coffe with my friend, and I stopped in Aomori, the last city before crossing the longest sub oceanic tunnel in the world, I had so much free time and I had only my loneliness, I was in a stage where I was talking to myself, even singing, and listening a lot my music, I remember a Colombian band called "3 de corazon" which I listened over and over, In a park I just lied in a bench and sleept for a while, nobody would come, noosy would disturb me, I took next train to Sapporo, where I reached Hakodate, the first city, I went to the top of the hillwhere tourist office promised a nice view, and it was true, an spectacular view of the city sourounded by the sea.
Day 26
In my way back to south I stopped in Akita, where girls are said to be beautiful, it was a quiet city, good lunch as usual, I was tired, I was hopping something unusual, but what else could I expect? I had travelled for 26 days in Japan, shared with friends, discovered a lot, stayed in 2 Japanese houses, hanged out with a nice Yokohama girl, what else did I want?
Tokio again, I met my friends Ryo and Megumi, they are couple, we went to eat ramen, I piecke my bike and stuff from Ryo´s house, said bye to his mom and we went to the airport, it was so emotional, after leaving them, when I was alone, I said some goodbye words to Japan and I made some tears.
(Visited 153 times, 1 visits today)
Want to leave a comment?
comments