I can't stop telling about Finland, now I am back, this time to Tampere, and now I am in a train traveling north to Ylivieska, my travel mate, a guy from Israel, like a mirror of what I dont have to be, he stares and flittler to every pretty girl who will never answer back to him. What a strange and happy less people, what a quiet and soul-less. I am not egocentric but I feel much much happy than any of the silent people seating in the train or in the bus, I have so many experiences and stories to tell, I can just hold myself and smile.
I had a crazy night, after work I went for a walk, 8 pm and a sunny ans warm day, people having beer in the river of the little lakes in the city, or drinking coffee in the terraces of the restaurants, it is unavoidable to feel a little sad for being alone, I would like to share with them, to have friends, at least to talk with somebody! Spanish language is so far away from me, and if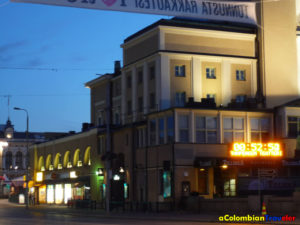 You think about it, a single day without talking to anyone in any language, not even in a shop, make you quieter and quieter, sad and mad… It has been many days for me no talking to almost anyone.. again, sad people, soulless and dragging me to their sadness and empty life.
In my office in Tampere there are only 5 people, they dont say hello, they dont invite to go for lunch, so I end eating myself anywhere, they dont say good bye at the end of the day, sometimes I rise my head and I find alone in my 5 people office, I have decided to try hard, to keep what I like about me and my culture, greeting, talking, asking…. it is pointless with them, after 3 months in Helsinki, sharing with a 20 people office colleagues, I ended going out with Chinese and mostly being alone, sometimes somebody brought cake and used to leave it in the coffee area, some Chinese and finish gathered and eat, I am new, coming from another continent and working hard for them, however invited me and I never knew what was the weekly cake for. I expect so much from people, in Colombia we do and we offer.
Few times I ate with fi
nish, last time I did, I had to say at the end of the lunch 'Sorry guys, I dont understand finish, you should know'. I never searched for them again. Maybe nice people still. I don't know, maybe they just have a different chip I dont understand.
So I was telling about my night, I walked and walked, hoping for something to happen, just as it has happened in other countries, in Japan I was always welcome and people even wanted photos with me)
people came and went, talking, a smile once a while, look ok, look comfortable, far from happy, pretty girls wearing short pants and beach-like clothes, maybe not true, but my impresion is Im sure they are bored, anyway nothing happens in their life and they are not opened to new things. I was listening to a concert, eating some street food, after 2 hours of nice music, i talked to the fatty
girl seated next to me, who refused to answer my greetings, I had to say.. hey, its ok, if you dont want to talk, just say it, and I leave. Later I met a Colombian friend and his brazilian friend, we came into the most popular dancing club, fancy, full with young pretty people, including us of course 🙂 we felt good, tequila was so cheap and music good, and I didn't feel like talking to girls, they dont have that passion that attracts men, I didn't find the way of approaching and few attempts of say hello went to a disaster. It requieres effort to keep pace in a place like this, beach holidays looking city, preety people in the streets and sunny long days (22 hours sun every day)… I feel good when I keep the pace and tranquility and I feel awful when I fall into desperation and I try to force things to happen.
I left the disco at 2 am, tipsy and walking I was boarded by a metal dressed guy, hat, skinny guy, boats and long hair, a cd on his hands, proud of his metal band demo, he invited to seat me, then to his bar, where hi was his his band mates… so we went to the metal bad looking bar… surprisingly i was so welcome, they treated me as if i were a important guest comming from oher lands, free beer and drinks, chatting, for any reason I don't know, they said bye saying 'thank you for saving the day'… hey I am not a day saver, I am not a party guy or a party amuser, anyway they were glad and they gave me a different impression of Finland. Back in my hotel room I felt like calling a mountain-capital ghost, someone who would always understand me and who would be with me even when I am alone.
(Visited 90 times, 1 visits today)
Want to leave a comment?
comments