Helsinki again, Nov 2012
This time I come in a different mood, Having broken with Maria, now living by myself in Stockholm, in a foreign country so far away from home and no reasons at all to be there, I came to Finland and I dont care to stay here 1 whole month, I really need the loneliness this country attacks me with and my thoughs are now all with Camille, but that is a long romantic story, just think that she is my love.
Anyway, I really need to be alone for a while.
I woke up at 6 am today, shower, musli for breakfast and leving, 7 am, dark and cold outside, windy as well, and since I leave the building I think of the amazing place I am, sad and amazing, not green eanymore, gray and brown rise to remain you there is a sad side in your mind, thoughs inmediatly space from me as fast as my hands look for my warm pockets, the backpack is heavy and full with unnecesary staff and every step is a though. Buses comming, slept minded people waiting for the bus and no sound in the air, I still enjoy for myself felling the different one in the bus stop, or in the bus. The bus comes at 20 kph and someone fully covered with jackets and reflectors shows a reflective card to the driver, who mechanically stops, when juping in, I sometimes think that nobody at all smiles in the bus, so I laugh for myself and smile, trying to catch people's reactions and I feel they look at me a little more, or sometimes I just jump in the bus and forgot to smile and then I look for a free double seat, just as the rest of the finish, and I feel bad and corrupted, because I am becoming someone I dont like, anyway I know nobody will seat with me, unless no other seats available, then this person will NOT look at me at all, not even in the corner of the eye, sometimes not even when getting off.
It is anyway interesting, sometimes 10 little 4 year old kids get in the bus with the teacher, and dress with an anti-cold anti-dirt overall, cap and gloves, they look funny and fat, still pretty with their clear eyes and blond hair. Reading my Vargas Llosa book, I made it to the train station on time, watching more and more people in an impresive station, I took a coffe, not knowing how to say 'little' I show the 'little' sign with my fingers and they understood, already in the train, I saw the most simple and pretty girl I ever saw in Helsinki, maybe not pretty for many, but nice to my eyes and I started my experiment, staring at her and waiting for her reaction, I was in front of her and she never saw me in the eye, so my personal subjective experiment was successful, girls will not see you unless necessary.
1 hour train to Lahti, walking to the work place and get in to the basement and work with 2 nice finish men, I like Finish names, they are short and powerful, like Arttu, Juha, Kary, Timo, Kimo, Vesa, Rabbe, Yari, Ilmo. Lunch with them, delicious and with some chatting and little eye contact, still nice.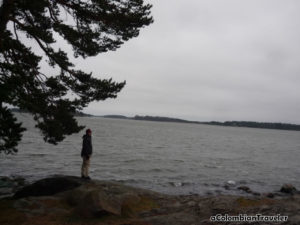 After work, 30 minutes walking in Lahti's forest, 30 minutes reading in the train station and 1 hour in the train back to Helsinki The train is quiet, clean and nice, Finish are well organized and trustable, peacefull, quiet.
Walking to my favorite library… closed, walking to my secont favorite library… graeat, opened, I found a given away Jules Vern book that I will ask later for the title and that will fit Camille's and mine library some day. Inside, a pretty sofa under a big plant and a Beethoven violin concert rack of CDs played in a Cd player intended for the readers… great, nice time there.
Out in Helsinki, there is a friday feeling, people out, talking more than usual, some new sounds and movements, ant the (again.. personal) feeling that nobody will neither disturbme, neither talk to me. Nobody will ask me the time, or say hello, or try to sell me anything, or wander where I come from or how my country 15000 km away looks like. strange feeling, I am a no one in the streets I now know much better. 5 eur pizza and off I go home again in the 20 kmp bus.
Mono – 06 – Yearning from enimaxes.com on Vimeo.
Now in my home, in my controlled loneliness, not anymore in the uncontrolled loneliless of the
outside. And that was my day!
(Visited 119 times, 1 visits today)
Want to leave a comment?
comments