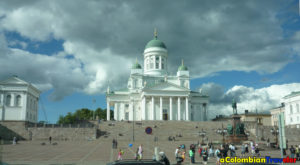 August 2011, my first time in Helsinki. I have been living in Sweden for 6 months and we finally took a cruise from Stockholm to Helsinki. These cruises are very cheap, about 20 USD roundtrip including the room, so Maria (my former girlfriend those days) and me went to Helsinki. After 12 hours traveling, we reached Helsinki at 7 am, August is the middle of the summer, so it was sunny and beautiful, not really hot but pleasant, We walked a lot, I had a list of places I wanted to visit and we enjoyed.
We went to the famous old fortress in Helsinki, once Russian, then Swedish and now Finish, Suomelinna is now a museum island, nice and charming. We walked it, I usually taking pictures around and Maria relaxed and quiet.
I didn't imagine some months later I was going to be sent to work to Helsinki. For that story see Finland in Winter
(Visited 104 times, 1 visits today)
Want to leave a comment?
comments